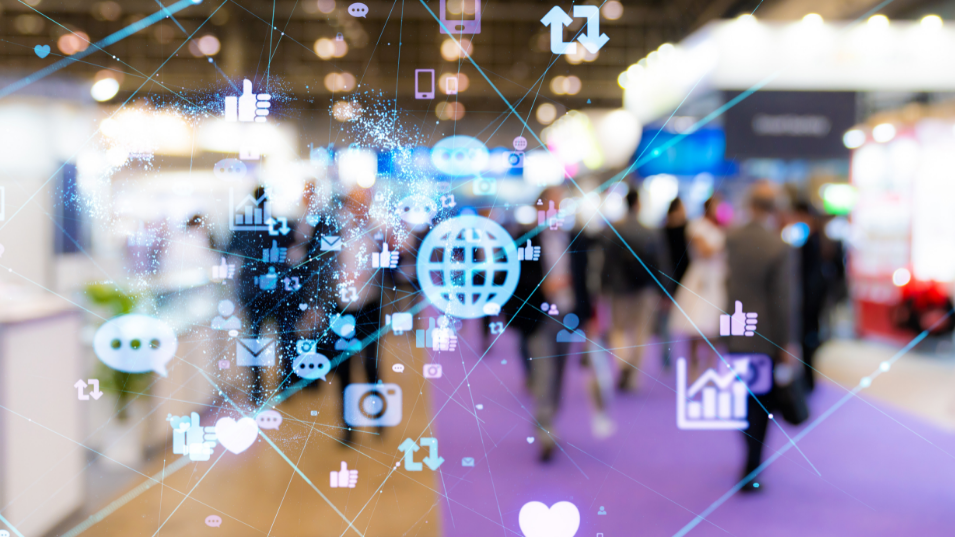 Why are exhibitions important for brand building?
Exhibitions are back.
And your potential clients and customers are ready to say goodbye to zoom and hello face-to-face.
85% of company leaders think in-person events are key to their business success. So, if exhibitions aren't a part of your brand strategy, you're definitely missing a trick.
Here we outline why exhibitions are key to your brand building efforts.
Form relationships between brand and consumer
As the saying goes "People do business with people they know, like and trust."
And exhibitions are an ideal opportunity to lay the groundwork for these relationships.
Faceless brands distance themselves from audiences. Consumers establish connections with companies through familiarity and transparency. By attending exhibitions you're giving potential clients and business partners the chance to put a face to the name. Showing the people behind the business humanises your brand, enabling audiences to identify and relate, ultimately building the trust that's key to your success.
Plus, the audience that you're engaging with at an exhibition are likely to be more receptive than, say, consumers you're cold calling. This is a big benefit of exhibitions; they're your way of going direct to your target market, building relationships with interested consumers and generating quality leads.
Differentiate your brand from the competition
In saturated markets where consumers can find you along with all your competitors at the touch of a button, you need to identify ways to cut through the noise.
Exhibitions are your chance of doing just that.
As we mentioned in our first point, exhibitions are an opportunity to show the people behind your brand. And this is key when it comes to standing out. Connections with customers are just as important as the quality of your product or service. Maybe even more so if you're in a crowded marketplace. Being familiar could be what sets you apart and motivates the consumer to choose you.
And speaking of competitors, exhibitions are great for scouting out the competition. Knowing what other brands in your industry are doing is vital to your business strategy. It's a way of seeing what works and what doesn't, plus identify the gaps in the market. You can then use this valuable information to ensure your offering is unique and meets the needs of your audience. 
Create quality content
The number of marketers using content marketing stands at 82%, that's up 70% from last year.
Why? Because content builds brand awareness, creates consumer trust, can generate better leads, improve SEO and position you as an industry leader.
So, if there's an opportunity to create more compelling content, take it. 
And that's what exhibitions offer. Live tweeting, writing blogs, sharing action shots, posting behind-the-scenes videos; they're all ways of increasing your engagement and connection with audiences.
What's more, creating content around your exhibition enables you to reap the rewards before, during and after. Exhibitions aren't just a one-day thing, not when it comes to the preparation involved or the content you can create.
It's no secret that making the most of exhibitions takes work. So, creating content helps you achieve results that match the amount of effort. Content around your exhibition extends the time frame and increases your reach. You can build anticipation before, engage audiences that can't be at the event during, and repurpose content long after. 
Associate your brand with specific sectors
Do you want to be known as a specialist in a particular sector? Perhaps you're a recruitment agency that targets tech companies, or a marketing agency that wants to grow their client base in the financial sphere. Then be sure to have a stand at their industry exhibitions.
Being an exhibitor is a means of making your brand known amongst a specific sector. You get direct access to potential clients to demonstrate your knowledge. You show companies that you're invested in their field, that you make the effort to immerse yourself in that sector to keep up with developments. Position yourself as experts and become the industry's go-to brand.
Done right, exhibitions can have a valuable and long-lasting impact on your brand. And part of doing it right is ensuring your display is top quality. Exhibitions can be vast, packed with other companies competing for attendees' attention.
So, you need a display that stands out. It needs to capture your brand and leave a lasting impression. That's where we can help. We know that the paper stock, special finish and print technique can say as much about your brand as the content it features. Which is why we work hard to create the signage that suits your style.